To create a new certificated security:
Follow the process of creating a new security and in Step 6, you will get to the settings which relate to certificating your security.

Tick the the

Certificated

checkbox to make your security certificated, as shown below.

Customise the

Company code reference # and 

the

Security code reference #

. You will see a preview of how the share certificate numbers will appear under

Share certificate number sample

. Then customise the

Terms of security as they will appear on the share certificate.

There is a 600 character limit for this field.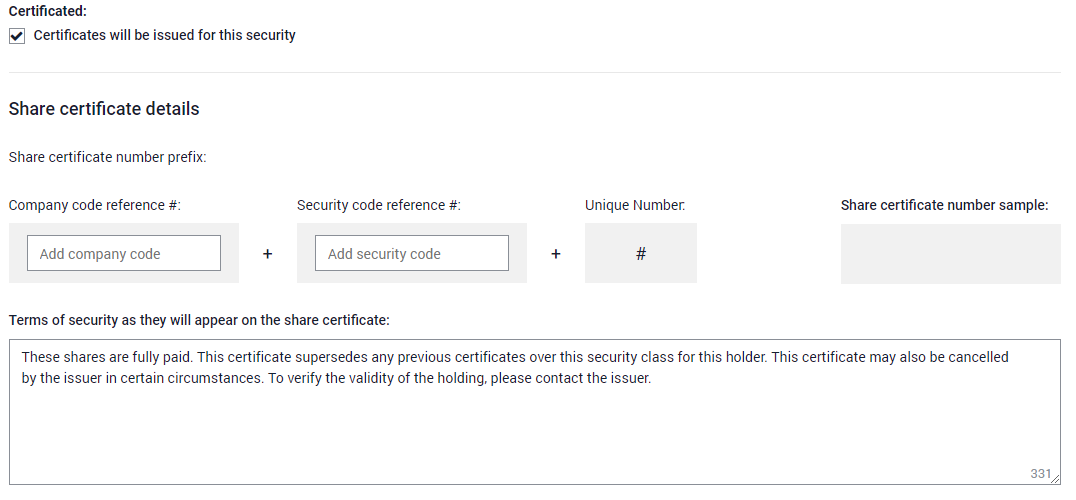 To make an existing security certificated:
From the menu go to

Capitalisation

and click

By Securities

,

then from the table click on the name of the security.

On the security detail page, click

edit security

.

Tick the

Certificates will be issued for this security

checkbox

.

Customise the share certificate number and terms of security as you would like them to appear, by following the details in step 3 of editing share certificate details.

Click

Save

.
Once you have a certificated security, to download printable PDFs of your investors' share certificates:
From the menu go to

Investors

and click on

Share certificates

. The list displays all current share certificates. Share certificates that have not yet been downloaded are labelled as

New

.

To download only new certificates, click

Download 'New' only, as shown below

.

To download all certificates, click

Download All, as shown below.

To download individual certificates, locate the certificate by

Investor 

or

Certificate number

in the table, then click

download

in that table row.

You can also download an individual investor's current share certificate from their investor details page:
Search for the investor.

On the Investor details

page, under

Share certificate

, click the

share certificate reference number

 as shown below to download a PDF of the investor's share certificate to your computer.